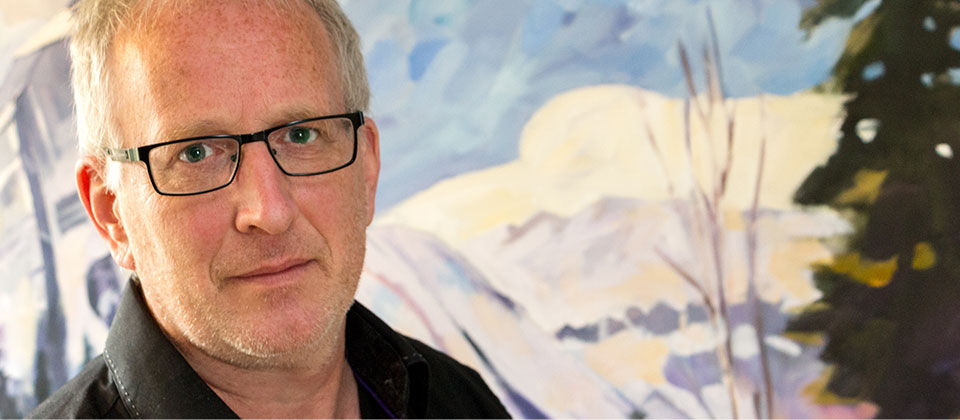 Mark Tworow is an artist living in Smithers, British Columbia. He paints landscapes, abstracts, and still lifes and his paintings are known for their strong formal structure and lush painterly colors.
He has held several major solo exhibitions showcasing works which are now held in private collections both here in Canada, England, the U.S., and in New Zealand.
Tworow graduated with a Bachelor of Fine Arts from the Alberta College of Art in the 1990s. After living in Smithers for 19 years he spent a year in New Zealand, returning to Smithers in August of 2010.
Tworow's paintings show his passion for nature. His works depict a wide variety of natural settings, and he draws much of his inspiration from the majestic mountains, sparkling lakes and noble forests in and around Smithers. "If I had to define what I am as a painter, I'd lean towards abstract expressionist, though I use their techniques and approach to try and capture the essence of the landscape around us."
In addition to his painting, Mark Tworow works in a Smithers bookstore and his enthusiasm for literature is contagious. But books, despite his seemingly inexhaustible knowledge of them, are a lesser love for this soft-spoken Smithereen. Painting remains his true passion.
In 2013 Tworow's painting "Below the Falls" was awarded the juror prize at the Terrace Art Gallery's "Misty Rivers and Waterfalls" group show. His commissions include his 2012 painting "Untitled," which was selected for inclusion in the Ridley Terminal Northern Art Initiative, and "Telkwa Range," selected for Time Raisers in Vancouver.